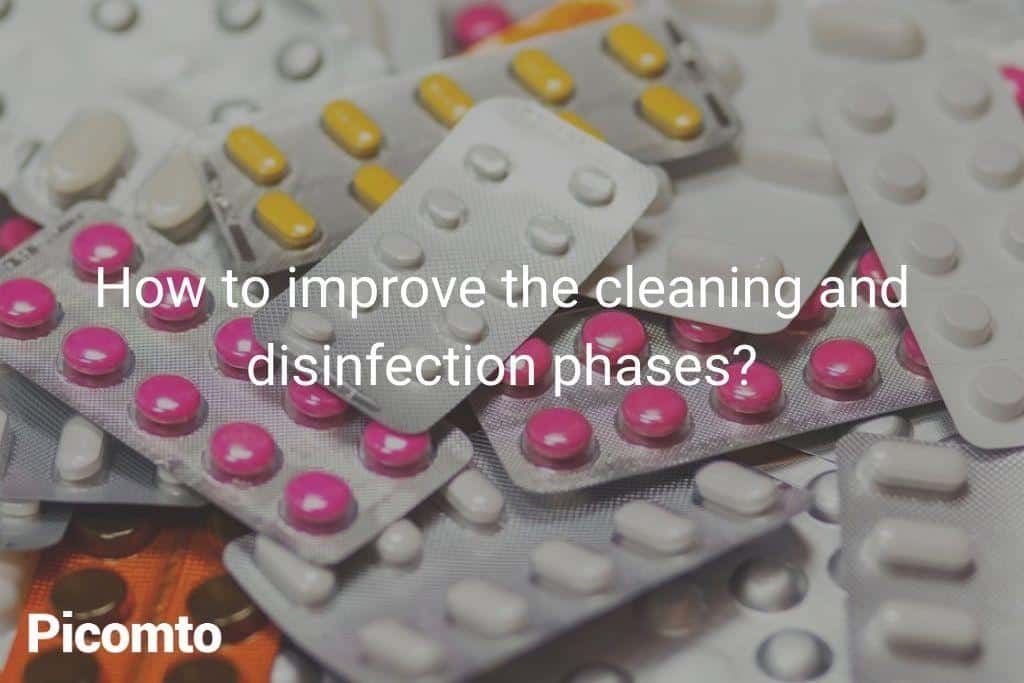 In pharmaceutical plants, the cleaning and disinfection of lines is particularly important. Production lines must be in perfect condition before changing series, and faults cannot be tolerated because of the heavy consequences they can have. Therefore, the process of cleaning and disinfecting lines must be optimized to avoid any risks.
In this article, we offer you solutions to improve these delicate phases as much as possible.
When do we do line cleaning?
Line cleaning is a process that allows operators to ensure that production lines are free of residues from the previous series. It is therefore carried out before the change of series.
Line cleaning is carried out each time the series or product is changed to remove any residue that could damage the new series. In the context of pharmaceutical and drug manufacturing plants, this process is of great value since it prevents a number of risks.
The consequences of a poorly performed cleaning?
Line cleaning is an extremely important process in pharmaceutical plants that handle products and drugs. Operators must perform this work meticulously so as not to disrupt the production line and cause problems that are often very serious.
In fact, a poorly performed cleaning would be the cause of many consequences:
Different products packed together
Improperly performed line cleaning can cause anomalies in the packaging process. In some cases, the calibration is disrupted, resulting in two or more products being packed together. In such cases, the product is considered defective and will be returned. Finally, the poor packaging of products will have huge financial consequences mainly related to returns.
Poor quality products
Product quality in the pharmaceutical industry is a decisive factor. Incorrect calibration of machines caused by a malfunction in line cleaning could cause a drop in product quality which can put the company at risk.
Hazardous products for health
Improper line cleaning or disinfection in drug production lines can have disastrous consequences. Because people's health is at stake, any abnormality in cleaning and disinfection can result in toxicity and morbidity.

Ensure that staff are trained and that they have their PPE
The lack of personal protective equipment (PPE) cannot be tolerated in pharmaceutical plants, especially when it comes to line cleaning. In addition to the equipment, personnel must be armed with meticulous know-how acquired during training.
In fact, training plays a rather special role in the cleaning and disinfection process. Being a crucial and extremely important process, it must be carried out meticulously to ensure effectiveness.
Thus, it would be necessary to ensure that staff are well trained in the procedures they must perform. This training can be provided through technological means that facilitate the acquisition of skills by staff. Picomto develops digital and technological software solutions to facilitate and improve the quality of staff training at this level.
Follow cleaning instructions
For any process to be carried out in the best conditions, it is necessary that the operators follow the work instructions. In the case of cleaning and disinfection of lines, following the cleaning instructions is more than necessary.
To facilitate this task, the company should provide work instructions in understandable formats. Thus, digitizing the work instructions and transforming them into an interactive format can only make it easier for operators or technicians to follow them.
Following the cleaning instructions therefore obliges the operators to check whether there is any debris left on the line and whether the line has been disinfected. Finally, to ensure that the work has been done properly, operators are required to visually inspect problem areas on the line.
Thus, to improve the cleaning and disinfection phases, it is necessary to adopt updated work instructions in new formats. The incorporation of digitalized instructions and technological tools improves the efficiency of the operators.
Ensure traceability of actions through data collection
Data collection is one of the success factors for pharmaceutical companies. They collect, store and analyze data from different levels of production.
Cleaning and disinfection operations must also be subject to data collection to ensure a certain traceability of interventions.
In fact, traceability is crucial in this case to ensure the smooth running of production and to detect anomalies if necessary.
Operators must therefore enter the information relating to cleaning and disinfection interventions via connected forms. Digitizing the data collection process improves its efficiency and prevents information leaks.
In addition, thanks to solutions like the one we are developing, you know whether operators have consulted the latest version of the work instructions and therefore whether they are trained.
Provide an adequate solution for operators
Picomto develops innovative software solutions and tools that enable managers to provide the right information to operators to improve the cleaning and disinfection phases. The right information is provided during training courses and in work instructions. This becomes much more important in the context of pharmaceutical plants that manufacture products and drugs that could affect public health.
Picomto supports managers in optimizing cleaning and disinfection processes by providing work instructions to train operators on the cleaning procedure and the use of PPE. In addition, the proposed digital solution allows the collection of data to ensure the traceability of the actions maintained. Picomto also provides visual instructions to help operators inspect key points during cleaning and disinfection operations.
Finally, Picomto always gives the latest information to the right person at the right time.