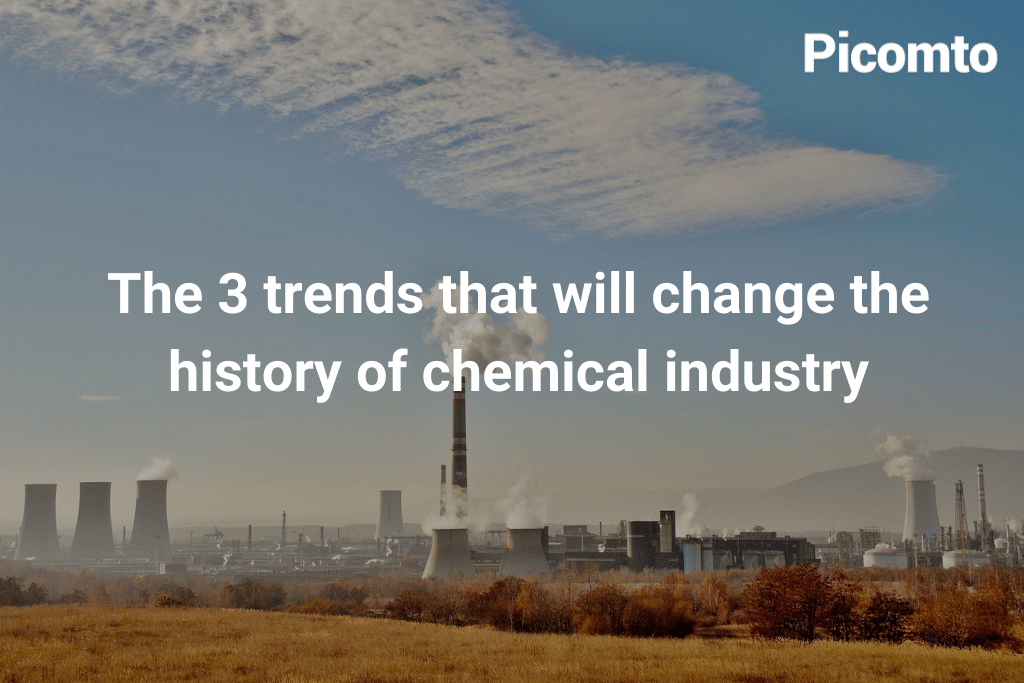 Due to the growing and progressive trend of industry 4.0, chemical industry is also working to use the various opportunities offered by new digital tools to improve its business.
Generally, when we talk about industry 4.0 or industry of the future, we find that the automotive and aeronautic sectors are present as good references of the digital transformation of industry.  In fact, the field of industry is less mentioned. However, several companies in this field claim that they have started setting up digitalization strategies. Indeed, thanks to their equipment, certain industrial manufacturers launched projects about digitalization in order to improve the efficiency of their operations.
Note that the digital transformation has a strong impact on all the basic functions of an industry: supply chain, production, maintenance, services, marketing, sales, research and development, human resources…
Sustainability
The world is witnessing alarming ecological evolutions and people's demands of ecofriendly products are increasing. In fact, during the last years, we have become aware of the importance of sustainable development and environmental prevention. In the face of climate change and energy transition, industry 4.0 proposes evolutions with a small ecological footprint. It also sets up new manufacturing methods in order to reduce pollution.
As a result, every chemical industry must rethink and optimize industrial processes while meeting more and more constraining standards, particularly sustainable development.
Thus, from now on, chemical factories will design and manage industrial assets more efficiently, increase production, reduce maintenance costs, improve security and achieve their sustainability goals.
New digital tools like Picomto seem to go hand in hand with sustainable development. They can benefit from the company from a financial point of view: reducing costs, creating new services, improving sales, retention.
As a digital solution, Picomto helps to considerably reduce the number of accidents that can cause excess of pollution. Indeed, it supervises and manages activities pertaining to production.
Besides being less polluting, digitalizing operating modes make the latter more efficient.
Hence, within a chemical industry, Picomto is considered as the ideal solution to digitalize operating modes and work instructions in order to ensure more efficiency.
Moreover, thanks to its accident prevention and management functionalities combined with safety standards training module, Picomto constantly supervises activities pertaining to production.
On the other hand, the use Picomto removes paper from the workshops and allows the client company to limit potential penalties related to its polluting emissions.
We can say that industry 4.0 is compatible with better management of environmental impact. It is even one of the main levers for a clean industry.
Increasing international competitiveness
In the face of the growing tough competition, chemical industries have to be both more productive and more competitive.  In fact, chemical industry is characterized by tough competition. However, several factory operators have not fully explored the hidden benefits of the vast amount of data produced by their field instruments yet.
Therefore, in order to remain competitive, chemical companies must fully optimize their resources to maximize production. They have to proceed with a digital transformation. Note that this transformation is not only technological. It also concerns the use, equipment as well as organization. This urges companies to improve their adaptation and anticipation capacity.
Moreover, the mission of chemical industries is to innovate in order to offer value-added products, reduce their costs and production deadlines, maximize their operators' competencies and extend the product life cycle.
Thanks to technological progress, digital transformation is picking up in the sector. Chemical industries play a key role in increasing the productivity of the manufacturing environment and thus become the basis of Industry 4.0.
Manufacturers have many technologies to step in the era of industry 4.0. One of tools to use to meet competition is Picomto. Thanks to its adapted and easily updated modus operandi, this digital solution allows a full exploitation of resources. It also helps to get more detailed information on an installed base in order to make the right decisions to improve maintenance, production, operations and supply chain.
So, we can say that Picomto represents a real opportunity for the chemical industry to gain both competitiveness and flexibility.
Technologies
It is impossible to dissociate industry 4.0 from new technologies. Chemical industry is adopting more and more new digital technologies. Among the main technologies that go with this industrial revolution are the following:
Web and mobile applications
These applications facilitate exchange between internal and external employees in the company. Thanks to interconnected systems, they also facilitate fast and intelligent data transfer and processing.
Augmented and virtual reality
This new technology offers the possibility of visualizing objects and entities overlaid with the real world via a digital medium. These digital tools are very useful for maintenance operations. They are equally important for training employees.
In addition, with the use of a MES (Manufacturing Execution System) such as Picomto, chemical industry benefits from the use of connected objects IOT such as Real wear connected glasses that allow remote intervention of an expert without needing to move to a dangerous place. There is also the Check2start box which allows an optimal control of machines as well as authorization management and data collection exploitation.
With the adequate know-how, this ecosystem of connected units is able to significantly improve the efficiency of production process. Besides, it allows you to benefit from accurate data with actionable information.
About Picomto
Picomto is a digital solution for chemical industries. It allows every chemical company to improve its production method and meet competition. Indeed, thanks to its comprehensive supervision of the entire production chain, this digital tool allows better control of resources.
What are the trends that will change in chemical industry?
With the progress experienced by the industrial sector, the chemical sector is facing new trends to improve its productivity.