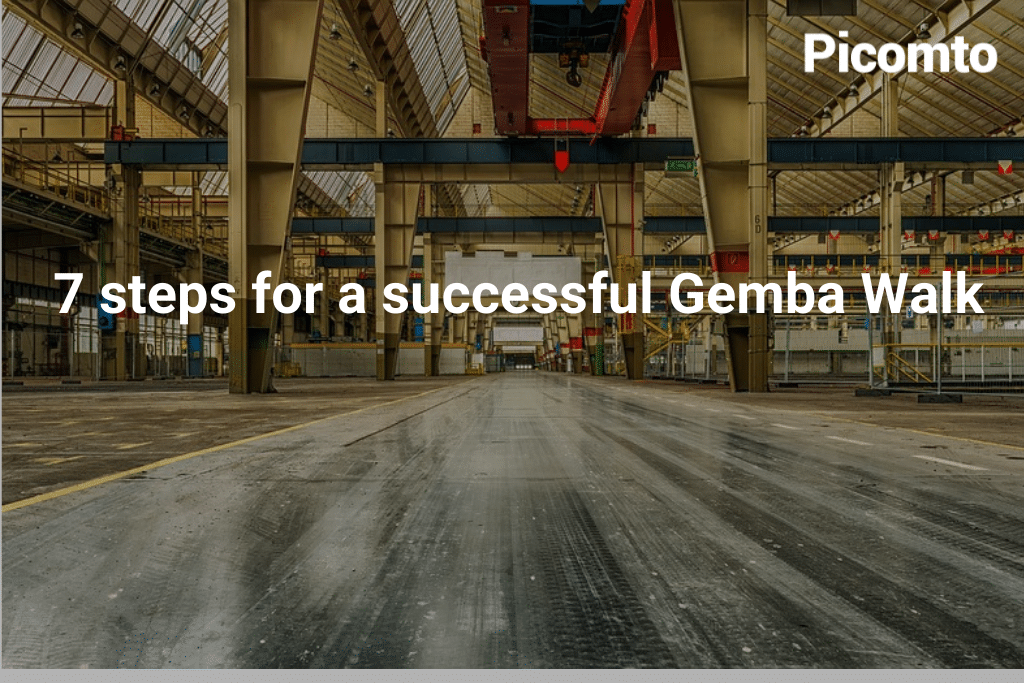 First of all, you should know that Gemba walk simply means "factory tour". In fact, this Japanese term evokes the field where work takes place and added value is really created. As a result, the manager goes to the field to observe the real situation in person.
It is considered as an essential aspect for the smooth running of a company by making sure that everything is aboveboard. Indeed, instead of getting stuck behind his desk relying solely on reported information or simple assumptions, the (lean) manager moves to the concerned zone to collect information directly without intermediaries.
It is possible to say that Gemba Walk is part of every industry's improvement plan. It allows business leaders to have a real vision on their company's processes and procedures while establishing a link with their workers.
For a successful Gemba Walk, you should follow these 7 steps:
1. prepare your course
The essential point of Gemba Walk is that the manager as well as leaders of all levels must regularly go to the workshop and engage in the continuous improvement process. To do so, you must start with identifying exactly the elements to be observed and analyzed.
For example, you must target a specific sector of the site. The goal is to stay focused and eliminate distraction, use available data and performance indicators to identify where improvement could be made.
Therefore, the first thing you must do is to choose a theme. This will allow you to focus your efforts on being more efficient. So, to get to know, you need to gather all the information about the sector in order to have a good knowledge basis.
2. Carry it out with other supervisors
You should know that the Gemba Walk should not be limited solely to the mere presence of the manager. Certainly, it can be important for employees to know that the manager moves around and takes time to take a closer look at production. However, it is essential to invite other people from the company to change perspectives. This will shed light on fields than can potentially go unnoticed.
Therefore, it is important to be open-minded and accept the comments and remarks of the teams. Involving teams in your Gemba Walk allows you to have a genuine picture of the situation. Indeed, being in the field, employees are in the best position to know the problems and propose solutions to solve them.
3. Ask questions
The objective behind Gemba Walk is to communicate with operators in the field where real value is created. Talking to those who are closest to it allows you to discover challenges as well as opportunities. It is recommended that you prepare your questions in advance.
In fact, once present in the field, it is important to ask simple questions that allow you to open a discussion, identify the problem and encourage employees to offer targeted constructive reflections.
4. Observation but not control
In addition, a Gemba walk should not take employees by surprise. It is not a simple audit that requires monitoring the activity of the factory. As previously mentioned, the manager aims to gather teams for moments of exchange to find ways to resolve problems. Therefore, it is recommended that you inform and involve operators so that they can get ready for any question you or your team might have.
If operators understand that this is strictly a review of processes, they will be more inclined to talk about process inefficiencies and ways to improve them. Indeed, they have to be comfortable and confident in order to be able to a make a change.
The manager has to set up all the means to allow upward, top-down and cross-cut communication.
5. Listening and not implementation process
The Gemba Walk does not stop the moment your reach your office once the tour is over. In fact, it is crucial to analyze the most important observations in order to draw useful conclusions. However, it is only a matter of observing and not implementing a process change.
We recommend that you use Picomto in order to document processes. This tool will help you to set steps and goals. It will also allow you to use forms for each step of the observed area with the possibility of adding notes. In addition, you will able to take and add photos and videos.
6. Planning your Gemba Walk regularly and at different moments
You should know that a Gemba Walk is not a one-off operation. It is a lean management philosophy that should be carried out regularly. The frequency of Gemba Walk depends mainly on the number of the ongoing processes in the company.
7. Feedback and contact with employees
Once the Gemba Walk has been carried out and new initiatives have been planned, you have to communicate with your operators and share all that you have learnt and noted with the team. In fact, this helps to communicate results and observations which will have a direct impact on procedures. Otherwise, employees will simply feel that they are being watched.
Therefore, if you are to take measures after the walk, you have to inform the team of the coming changes and why they are necessary.
Thanks to Picomto and its system of comments or dedicated checklists, you can also collect operators' feedback.
About Picomto
Picomto is a software that helps business owners or managers in their Gemba Walk. In fact, this digital solution is able to digitize processes, plan next factory tours as well as provide checklists to operators to receive feedback.