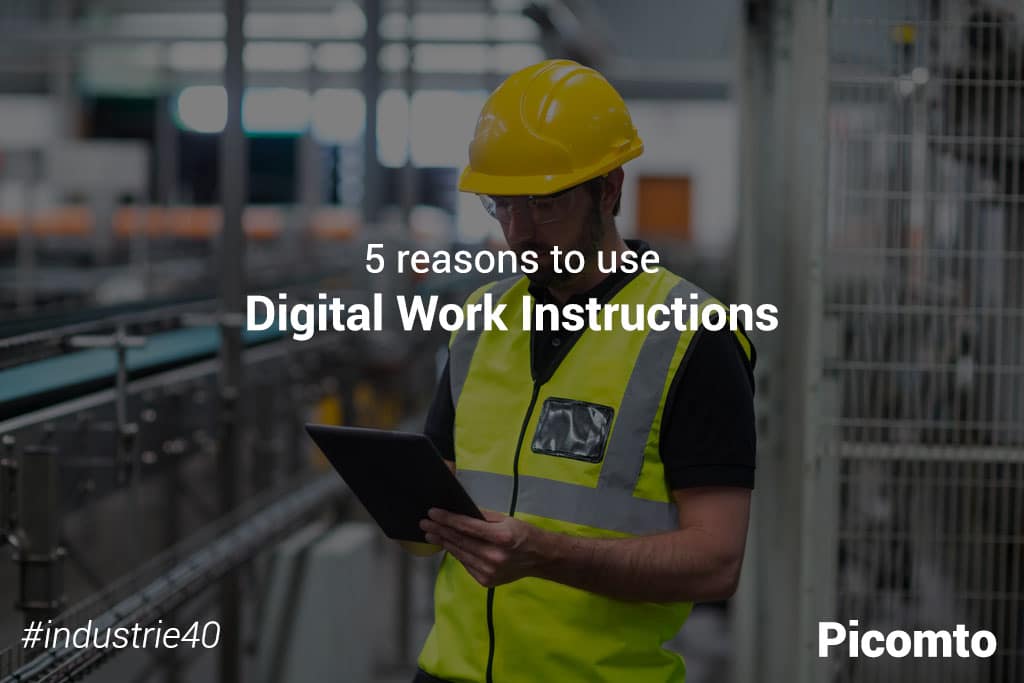 At a time when everything tends to be digitized in the world of industry, work instructions do not escape this transformation. They are fundamental documents, since they are the ones which explain to the operators the actions to be carried out seamlessly within their workstations, and some advocate their passage in digital format by evoking 5 reasons:
The improvement of productivity
Reduction of training time
Decrease in changeovers time
They are part of a continuous improvement approach
Reduction of errors and non-compliance
So let's take a look at these aspects in more detail.
Digitize work instructions to boost productivity
Paper-based work instructions are considered as obsolete and require revision because they are less susceptible to support productivity. Their accessibility is impractical and they only offer limited possibilities in terms of understanding unlike the new digital tools which multiply different formats. Therefore, how to create work instructions efficiently?
It is much more practical for an operator to read work instructions and collect field-data by viewing a visual and interactive document via software than a lot of instructions written on paper. This visualization is particularly helpful for complex procedures and for those which the slightest mistake, due to a wrong understanding, can have serious consequences and constraints for industrial production.
Digital work instructions contribute to build more efficient production line and thus, increase and improve productivity.
More efficient and faster training
It is undeniable that for people in training, the assimilation of knowledge is facilitated by supports and systems more in line with the evolution of the working environment
In the same way that the operator is viewing digital work instructions at his workstation to carry out their tasks effectively, the trainee will integrate and become more quickly familiar with work instructions via real time data on computer and tablet. This reduces training time and allows the company to strengthen its teams faster with new skills and avoid skills gap.
Digitalization of work instructions reduces changeover times
Changeovers are key operations, but which penalize production and slows the product life cycle. For example the machine, on which we operate to make changes (mould, jig, tool…) and adjustments, cannot be used in production during that time. The SMED (Single Minute Exchange of Die) method for instance, comes with an analysis of work instructions and this one is greatly improved by digital technology. For this reason, unnecessary tasks are identified more easily in the work instructions, which, once free of those sources of error, defect and slowness become more efficient.
Thanks to actionable digital work instructions, operators can realize simple tasks as the level 1 maintenance which is usually made by the maintenance department and thereby save time during changeovers.
Part of a continuous improvement approach
By digitizing work instructions, we simplify the tasks and we give operators the opportunity to improve efficiency, to identify the relevance of each step, and to suggest and submit improvements.
Moreover the significant benefit of digital for work instructions is that you can update all your documents and checklists with just one click. The operators always access the latest version of the subject matter.
This matches the Kaizen method, the reference about continuous improvement. So we are free to say that utilization of digital work instructions is part of a continuous improvement process.
Less errors, more quality
Digital work instructions are more accurate; They are made to make operators succeed, without making any mistakes on the first time.
Paperless work instructions decrease the number of errors. Therefore, eliminated errors help save time and resources.
Use a Digital Work Instructions Software
Picomto is the leading software in Europe to create, manage, share, view and analyze digital work instructions and operating/maintenance procedures. Do not hesitate to contact one of our expert to find out more.